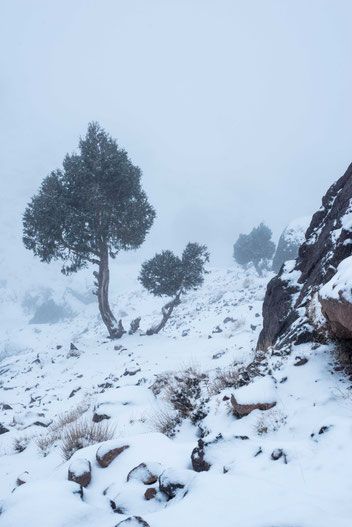 When I Planned my trip to morocco I had never thought that climbing Jebel Toubkal (4167m) would be that hard.
Harsh winter conditions made the way up to North africa's highest mountain to a very difficult challenge for me.
In marrakech a Young man called omar talked to me asking if i want to make a tour somewhere. I said I wanted to climb mountain toubkal. He got very happy and said that he grew up there and that he is a professional guide.
After talking to him I got the opinion that he was really professional. He gave many important Information and showed me Pictures with his Clients.
Some days later We started the journey from marrakech to asni with a Little van. after having breakfast there we visited the lokal Berber market and then moved on with another car to imlil. from imlil we started the climbing. It was a cloudy and snowy day.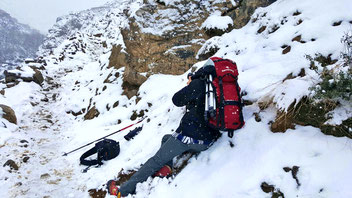 At the beginning i had enough power to take some photographs of the beautiful view.
After Walking for hours up I got more and more tired.
I was not fit enough for this mountain and i was not used to the Oxygen Level in this hights.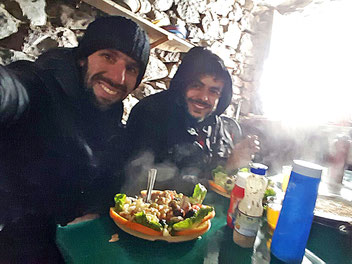 After some hours my guide and friend Omar decided to take a rest for a while. we had lunch in a Stone house where a gas stove was available.
The lunch was so nutritious that it gave us new energy to continue our trip.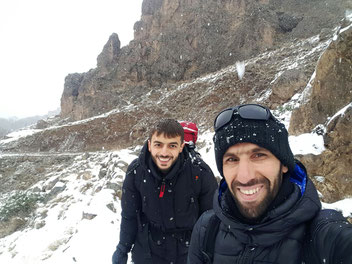 this is Omar and me. he was a very professional expert. despite a light snow storm and very cold temperatures he guided me carefully.
i got so tired that in the last part to the Refuge I could just move on with very small and slow steps.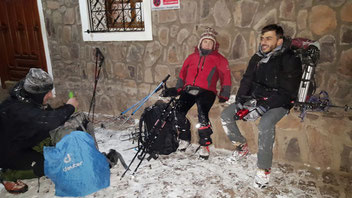 It Took Us about eight and a half hours to reach the Refuge (3200m). On the way near the Refuge we met two People from poland.  In The refuge we could eat an amazing meal together. after that we went to sleep to get enough rest.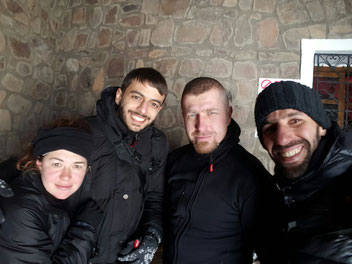 this are our polish friends with Omar and me. everyone was very happy to reached the Refuge.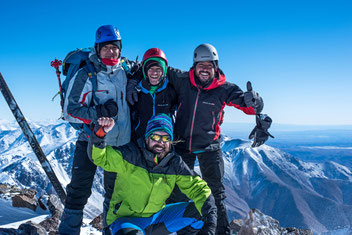 In the next morning we moved on. it was before sunrise when we started and there was a lot of fresh snow on the ground. Omar made a great Job by finding another path where the snow was not too deep.
On the way up we met some really cool guys from spain. we talked a Little bit before we moved on.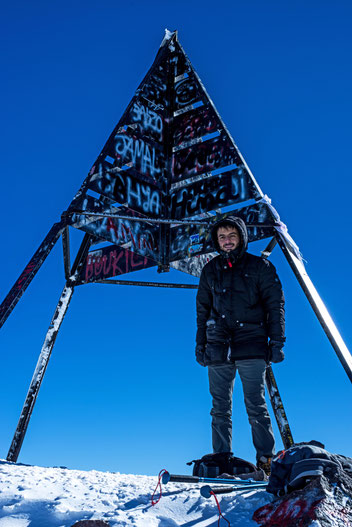 when we reached the summit from the refuge after five hours the weather was very cold and windy.
I was really tired and at the same time happy that i reached my Goal.
After taking some photographs from this high Point we went down to the Refuge.
After a small rest we took our backpacks and moved another five hours down to reach imlil.
It was night when we arrived there.
Omar made us some wonderful dinner in his house and after drinking tasty moroccan tea we went to take a good sleep.
It was an Important life experience for me to climb the mountain toubkal in winter time and I am happy for having such a great guide like Omar by my side.
If you want to take a trip to the montain toubkal I could recommend you to contact Omar as a guide. He cares for the Transport, breakfast, lunch, dinner and the stay at the Refuge.
this are his contact informations:
Tel: 00 212 675 776 075
web: saharamountaintours.simdif.com
Instagram: aminmoslim
Thank you for reading