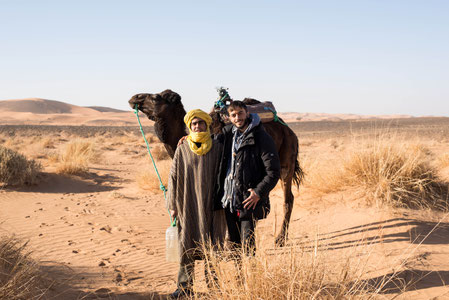 After climbing mountain Toubkal I wanted to go somewhere warm.
Before I started my trip to morocco I already had booked a Hotel in the area of merzouga which is just at the Sahara desert in eastern morocco.
the Name of the Hotel was "camel's house" and I had made the Reservation from "booking.com".
After resting one day in marrakech i took the bus with the only available Company i found "supratours" to merzouga. supratours is about 15 minutes with the taxi from the jemaa el fna in the old town of marrakech.
It took about 12 hours when i went out the bus one Station before merzouga because the Hotel i booked was not directly in merzouga. it was in Hassi Labied which is one village before merzouga.
when I went out it was dark and soon I realized that I've landed in a small desert village with sandy streets and less street lights.
A Young man offered me his help and I told him that I was searching for "camel's house".
He showed me the way and after 5 minutes of Walking I arrived there. From Outside I would never tell that this is a Hotel. It looked like a small desert house.
Walking inside a very friendly Young man welcomed me. his Name was muhammed and he was the owner of "camel's house". he invited me for dinner. We had tajine with cuscus and chicken. I was so hungry after the Long bus drive that i ate a lot of this beautiful Food. He didn't want to Charge anything.
He had only two small apartments side by side made of loam. inside it was clean and well smelling. everything was decorated in a simple and traditional way.
I told Muhammed that I wanted to make a two day tour to the desert. he said to me if I was really interested than I could get a camel loaded with food, a friend of him who knows the desert very well and I could spend many days in the Sahara desert.
This sounded good to me because I was really interested in the deeper desert Areas.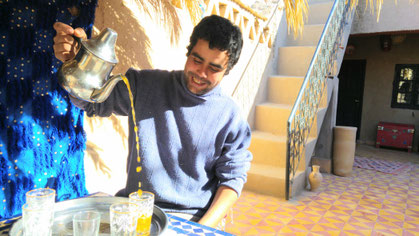 This is Muhammed who is the owner of the small desert Hotel "Camel's House". He keeps his Little Hotel clean and loves to serve tea in the traditional moroccan way.  We became very good friends.
So we started our trip. A Camel, Hasan and me.
We walked many hours on the day and than slept at the guest tent of a nomad Family or in our small tent.
Every day Hasan prepared breakfast for us. After that we walked many hours till noon. After having lunch we walked again till late afternoon.
Than Hasan prepared dinner And I collected some dry Wood for making fire.
After having dinner we went to sleep to get enough energy for the next day.
It was warm on daytime with 20 Degrees Celsius but at night it dropped down to around 0 Degrees Celsius. We needed many clothes on and many Blanketts to stay warm.