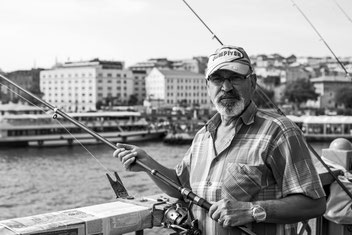 It was the last week of the holy month of Ramadan, when i visited my dear sister in Istanbul. i was fasting at daytime and had enough time to think about some new Photograph-Series about this beautiful City. The Famous fishermen came somehow in my mind. 
everybody who can get a fishing rod can try his luck in this city. especially The Galata Bridge is a well known venue for this activity and so i decided to visit it.
The man above is mr. sabri who was very friendly to me when i told him about my photography Project . It was the first Portrait of this series.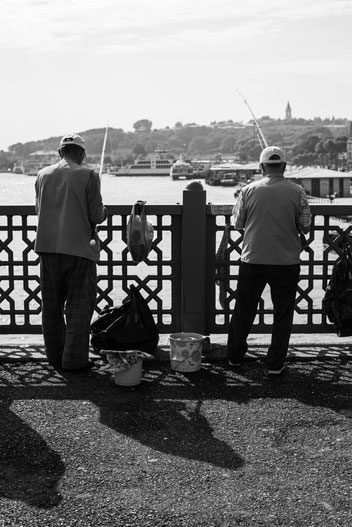 almost in every weather condition this People come here to spend some time with their fishing rod and the water. it gives them a Feeling of harmony some of them told me. 
this two old friends were doing their Thing in such a calm and Kind way that i was amazed by seing that harmony.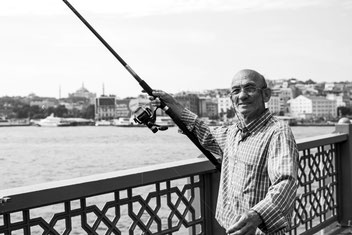 I had the honor to talk to this beautiful man. his Name is Nevzat and he has a very friendly and honest character. after we got to know each other I took this Portrait of him. 
The morning sun was just right to capture this Scenes for a black and White series.
I could use iso 100 because I set the aperture to 5.6 to get a sharp Focus on him and to cause a Slightly blurry Background.
so the aperture was big enough to let a good amount of light into the lens.
If the Background would be closer to mr. Nevzat or If I would want more blur i would set a bigger Aperture like 3.2 or 2.5 to get the effect.
So a Bigger Aperture means normally more blur in the unfocused area.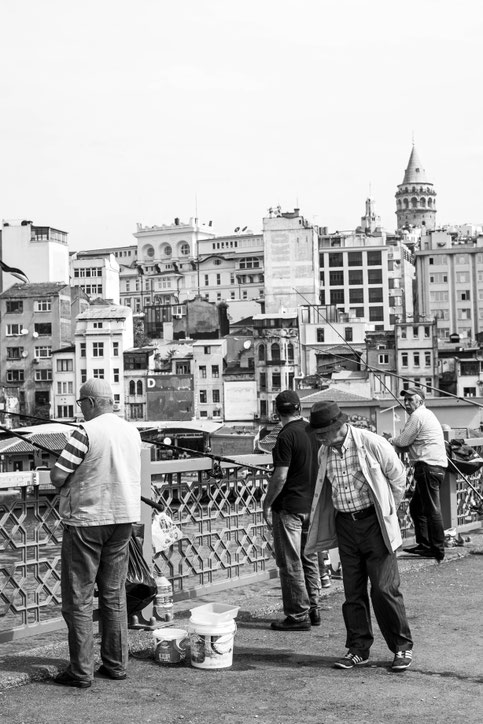 ISO 100; 1/400; F7.1; 50mm Nikkor Lens
While capturing this Scene I didn't want a Portrait Setting with a blurry Background. I wanted to get almost everything quite well Focused. so i Chose AN aperture OF F7.1 which is ok for a street-photography-style Capture.
It was a beautiful experience for me to meet so many nice People who supported me and my Project.
I thank all this Kind fishermen of Istanbul for treating me that nice.