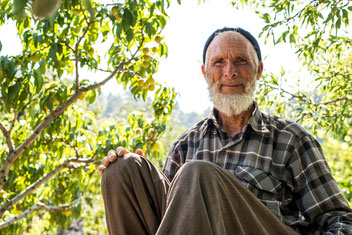 In July this year I had the amazing opportunity to visit a small village Named "Halifeler" in the mountain region of Mersin in Turkey.
 There I Met Mr. Hüseyin who was a soft-hearted and Kind man with a Passion for nature.
He and his wife live in a modest House and they go every day on a two Kilometer journey by feet to get to their blooming garden at the Mountain side.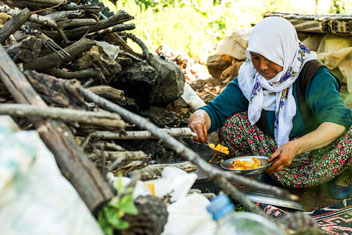 I Met them on the evening before through my good friend Dennis who is their nephew.
They got happy when I asked them if I could spend some daytime with them taking photographs.
When we arrived at the garden on the next morning his wife prepared a delicious meal for us with chicken and potatoes. She was such a friendly and beautiful woman.
Both are about 76 years old and they love to stay here in the nature far away from the stress and other Problems of a citylife.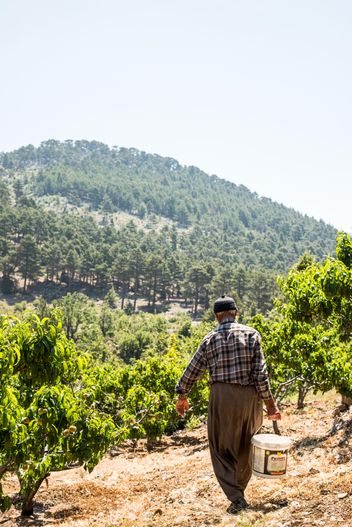 They are watering the plants, collecting the ripe fruits and enjoying the fresh air when they are in their garden.
On this Photograph Mr. Hüseyin or Uncle Hüseyin as I used to call him is carrying some Vitamin powder.
He told me that it gives more strength to the plants which can get very weak under the heat of the sun.
After watering the plants he scatters the powder to the water. When I Asked him if he is selling the goods, he negated. He told me that god is giving the fruits and vegetables to him for free so he gives it to People for free too.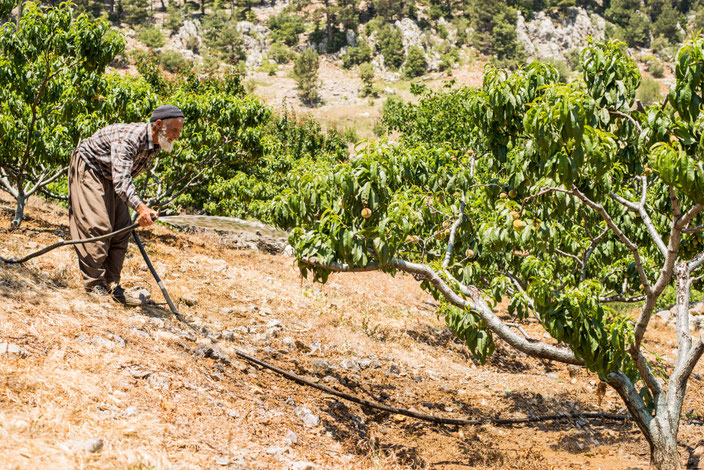 ISO 100; 1/250; F5.6; 50mm Nikkor lens
Before taking some photographs I had to set the right Settings manually as usual.
There was strong light so I could easily take ISO 100 for the lowest noise possible. An aperture of 5.6 was just right because I did't Need a strong blurry Background.
i knew that Mr. Hüseyin would move but the moves would be quite slow so I set an exposure time of 1/250 which worked well.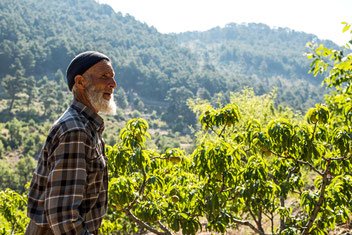 All in all it was a Blessing to meet this friendly man and his wife and to take some photographs of their daily life.
I thank them from my heart for treating me that nice.