I'm always gladful and happy when receiving a commission work and i think every artist feels the same.
So i thank every person who've been supporting me from my heart.
I was invited to the house of our customer Mr. Pieler who already got some artworks from Erkanart.
I had to make an abstract painting with our technique for the living room. so we decided together which dimensions and colors the painting should have and I got about three weeks for delivery.

Arriving at home where my studio is I had to build the wooden frame and stretch the canvas with the right dimensions at first.

After that a paste is added to the surface for structure effects. I admit that this step doesn't look very good but in the end it will give some amazing dynamism to the painting.

When the paste had dried I painted the canvas in a very dark grey tone. You don't see them but the structures are there :)

The first ground layer with purple and black. It has to airdry for the next step.

Adding some turquois, because it was the favorite color of our customer. Sorry for the different light at this picture.

Now it's time for some light grey with a thick color for some more texture on the surface.

Finally the first white highlighting, which has a sprakling effect. I love white.

things starts to get interesting when the neon yellow comes by. But not too much, just a little is enough.

A little bit of neon red too. Always keeping an eye on the whole harmony of the painting. This is my keypoint.

The last touches. Little more of every color to cause more intensity on the canvas.

Finally smoothening the frame with black spray-color and giving golden accents on the surface.
I didn't have to think so much about the name. When I behold the movings and rhythm I want to call it "Electric Universe One".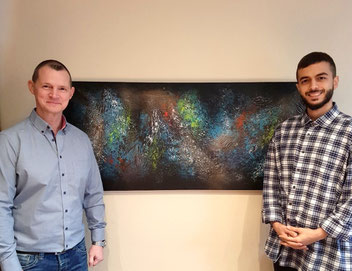 Delivery day. Mr. Pieler was so kind and came to our studio to meet his new painting. He was amazed from the first sight and that made me one of the happiest persons out there.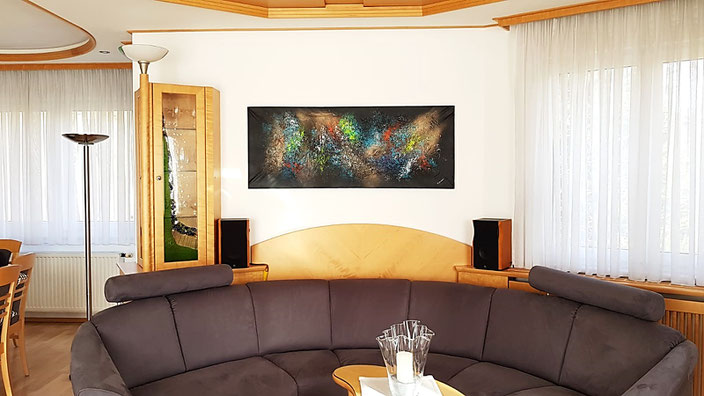 A picutre of "Electric Universe One" in it's new home. I thank mr. Pieler for trusting me and my art and I wish all the best and beautiful harmony with his new painting.
Thank you for reading.