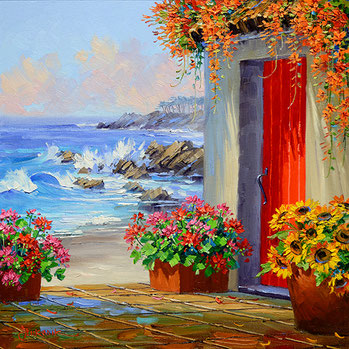 Some years ago I was searching for different styles of landscape paintings on the internet.
At one point my eyes got stuck at a very special and colorful artwork. I immediately fell in love with the technique and harmony of the colors. I quickly had to look for that artist and found the wonderful Mikki Senkarik.
All Senkarik images are protected under international copyright law
Beautiful magnificense on canvas
It were the warm color combinations, the cool shadows, the lovely motives, the impressive way how every single element of this paintings was brought on canvas that fascinated me.
I felt the harmony of this artworks which could only be done by a harmonious soul.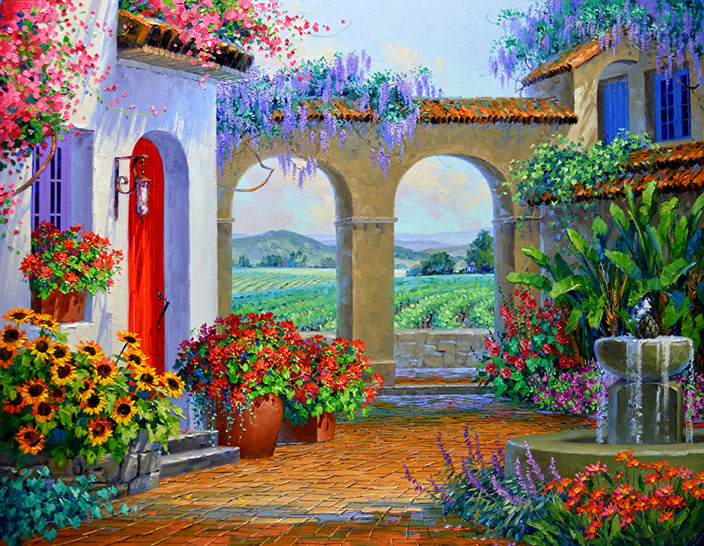 All Senkarik images are protected under international copyright law
Mikki Senkarik is a world-famous artist who works with oil colors and the Jack White Double Primary Color Mixing System to create amazing pieces of art.
She shares her Technique and detailed work process on:
https://mikkisenkarik.wordpress.com/
Though she follows a system, Mikki chooses the colors in her paintings from her heart and intuitive. What she' s going to paint appeares sometimes as a popping idea in her head or arises from looking through photographs she took with her husband over the years.
From darkness to light - Overcoming times of sorrow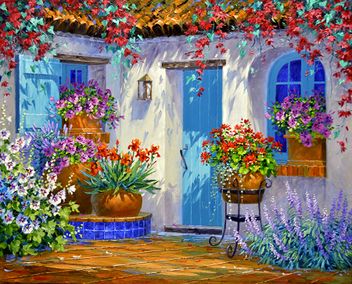 The life of Mikki wasn' t always as bright and peaceful as her beautiful paintings.
In her childhood she was sexually abused by her own father.
Many years later, after going to the university of South Florida and graduading from the Medical College Of Georgia, she earned a Master's Degree in Medical Illustration and started to work in San Antonio / Texas.
Then Mikki got in a marriage with a man who turned into an alcoholic and abusive husband. She didn' t know what to do, kept sustaining and searched for an outlet to escape. This was when she started doing fineart with a female artist group.
One day this ambitious group of women made an exhibition at a local mall when the State Artist Of Texas Jack White came through and was amazed by the artwork of Mikki.
The two became friends and Jack helped her to get happier and stronger in life. After several months she finally left her husband and got a divorce.
Teacher, friend and lover in one person - Jack White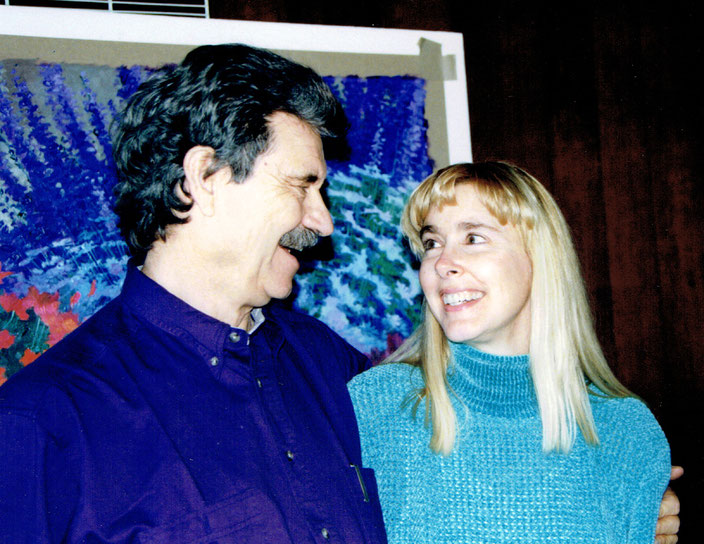 Some say, good hearts will meet good hearts. In Mikki' s case the succesful painter Jack White should become the one, showing her a world which she already had forgotten.
He helped her overcoming the past, showed affection and taught her new painting techniques.
Mikki and Jack traveled together visiting places in Texas, California and Hawaii. It was a special afternoon in Maui at Lover' s Leap when he made a proposal to her with the words, "Mikki, I would love to spend the rest of my life with you living in places where people go on vacation. And ....I would love to teach you to paint. Would you do this?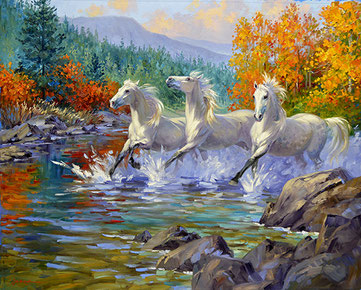 With Jack on her side Mikki' s soul brightened up like the lovely paintings she has started to create.
More and more people wanted one of this amazing and characteristic pieces, commission works were ordered and galleries were pleased when they could show Senkarik - Paintings to their audience.
This unique relationship lastet over 26 years, when Jack passed away in 2016 and left a sad mark in Mikki' s heart and the artworld.
But for all that you still see a pleased and thankful Mikki painting in her home because she loves and trusts in God and believes to meet Jack one day in heaven. She wants to keep celebrating God' s beauty on canvas and imagines when enjoying the view of a spectacular sunrise or sunset that her beloved Jack and all the master artists he admired, painting the colorful clouds with huge paintbrushes.
All Senkarik images are protected under international copyright law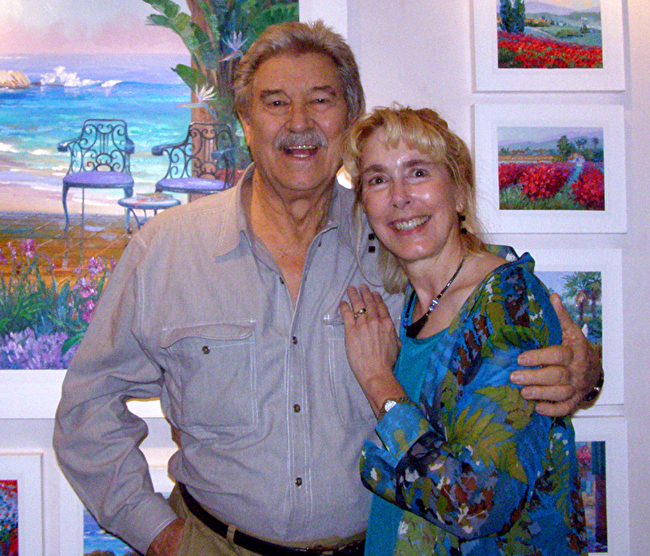 So many beautiful artworks bloomed from their outstanding love and people from all over the world are fortunate and thankful to be able to behold them.
The gardener and the youngest collector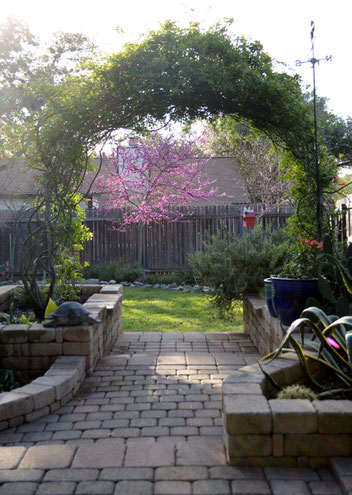 Mikki tries to spend a little time working in her colorful garden every morning. She loves her flowers and uses them as models when painting.
It was one of the greatest compliments to Mikki when a professional flower grower bought her painting and said she loves it because she could tell exactly which each flower supposed to be.
Mikki is a person with a very noble character because she appreciates small things in life and treats everyone with kindness, even though she had to go through very hard and sad times in her past.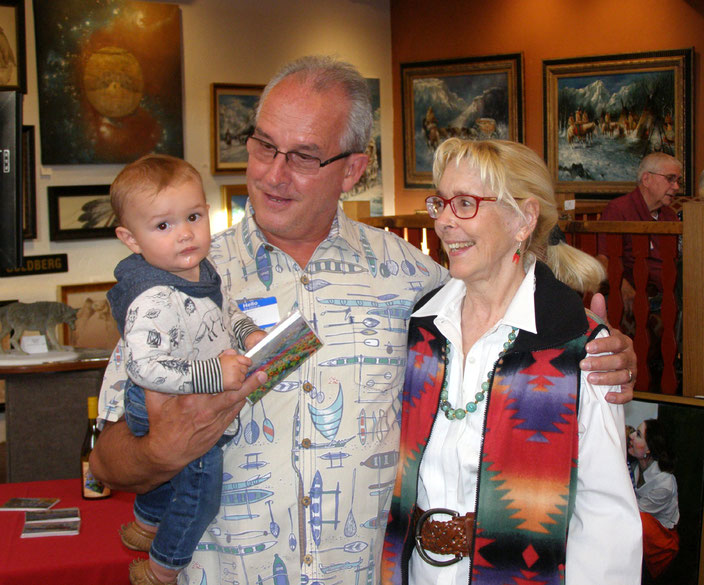 So if you buy a Senkarik - Painting it' s not only beautiful art you get. You also have the opportunity to meet an amazing woman with an amazing attitude.
Even this cute boy named Cooper photographed with his granddad Mitch and Mikki in the picture above is aware of that and became her youngest collector.
You can see in his eyes that he knows exactly what great art is.
At last I want to say a very special, "Thank you" to Mikki who became one of my most favourite artists.
I didn't know how she would react when I first wrote her asking if I could introduce her as the artist of the month, because she is a famous artist who is highly respected in the artworld.
When Mikki wrote back I was so excited opening the E-Mail.
Here is the answer she wrote,
"Thank you for your kind words Erkan. I would be delighted to be featured as your artist of the month. I look forward to your questions. Mikki"
What an elegant and lovely respond.
I feel honored for this opportunity and her trust she gave me and I wish her all the best for her life.
For more information to Mikki Senkarik and her art please visit her Website:
For following her work progress and techniques go to:
Thank you for reading.